When Jared and I were building our house, 3 years ago, we knew we wanted a guest bedroom, as well as a guest bathroom. Most of my family and friends are at least 2 1/2 hours away. When they come to visit us, it's very rare that they leave that same day. Most will visit for a day or two...sometimes more!
Oh, and because it's summertime??? That means MORE GUESTS!!! People take vacations during the summer, school's out, and it's when family and friends have lots of get-together's!!!
A bathroom is a very personal space, in my opinion. So when our guests stay with us, I like for them to be as comfortable, and feel "at home" as possible!
And because each person who stays with us is unique, we will prep our guest bathroom differently to provide their specific needs.
For example. If one of my friends visits with her children, I might put out a fun soap, or buy their child a special toothbrush! If my Mom comes to visit, I make sure she has one of her favorite body scrubs in the shower.
Oh, and back to toothbrushes....have a few spare!! Forgetting a toothbrush is probably the worst thing to forget when going away for a couple of nights. I always make sure to have a few extra just in case!
One thing I particularly like to do when hosting guests, is putting out Kleenex Hand Towels, rather than using a regular old hand towel. I think it's a nice, yet simple touch to add. I even place them where my regular hand towels would normally go!
OH....and make sure you stock up on plenty of toilet paper!!!
How do you create a "guest-ready bathroom?" I'd love to hear your thoughts!
Join the 14 million people who have already joined the Clean Hands campaign by using Kleenex Hand Towels, and
click here
for savings and more!
I was selected for participation in this campaign as a member of
Clever Girls Collective
.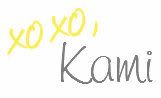 Pin It Now!