...I'm doing the ultimate...& so can you!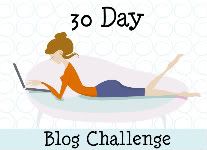 My friend Sarah over at
Falling For Baby
has started the 30 Day Blog Challenge. It is a great way to keep yourself motivated to blog, & to meet some new bloggers yourself!
Now, you don't have to blog every day for 30 days...that would just be insane! You have to blog 30 days for 6 weeks. So, realistically you could blog Monday-Friday, take the weekends off, & you'll have yourself 30 blog entries. You can do your 30 blog posts in any way that is most convenient for you.
So are you up for it?! If so, visit Sarah's blog
here
for all the details & to sign up!